Portable Base Plate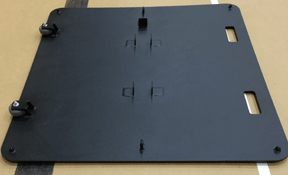 The Portable Base Plate is designed to quickly and simply secure the Physical Control Simulator for use. The steel plate can be positioned anywhere on a level surface, making the PCS usable in any location. Simply position the PCS into the channel on the Base Plate, and secure it to the Plate with the 2 provided turnbuckles. The 4 stabilizing weight bags (provided) can then be placed on each corner.
"When I first heard about LEPAT and their practice testing, I didn't think I really needed it. Why? Because I am young and in great shape. I am a US Marine veteran and former cop from the US. I figured I would be able to pass any physical test they threw at me.
I was wrong. The truth is this...
If I had not gone to LEPAT, I would have failed the POPAT. I took the class twice, and was able to shave 25 seconds off my time. The practice not only allowed me to pass the POPAT, but have one of the better times that day. I am competing for only a few available police constable positions -- and LEPAT gave me the edge I needed".
~ J. Cain