Wall Panels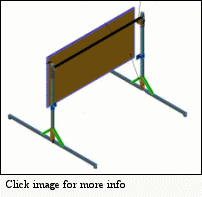 Wall Panels attach to Height Adjustable Vault Rail.
Used in the BFOR Law Enforcement Officers' Physical Abilities Tests (job related task). Testing and Training Physical Ability to Climb Over Wall or other solid Obstacles.
Panels available in 4 foot, 6 foot and 8 foot heights (or can be custom made to fit your wall height requirements.
Can be easily assembled and disassembled and stored on the PTM Equipment Cart.
Easily adjusted to be used for various height levels of testing and training programs.
Great Instruction!
I just wanted to thank you for the oppourtunity that you gave me to run the POPAT the other week. You were really helpful, especially with your instructions on the push and you made me feel a million times less anxious about it. I was able to run it in 3:30 and it was the first time that my legs didn't feel like lead right from the start. Thanks!
~ Julia G. (Sept. 2010)