Chain Link Fence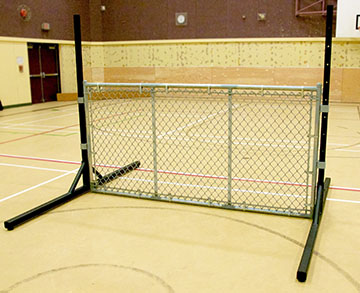 The Chain Link Fence attaches to our Height-Adjustable Vault Rail. It is made from heavy guage chain link and has 2 verticle support posts to help prevent the fecnce from deforming. The top rail is clean (without the protruding chain link pieces of a "normal" fence) to prevent injury in testing environments.
The fence comes standard at 4' high by 8' wide. It is height-adjustable up to 6' with the standard Height Adjustable Vault Rail.
Can be easily assembled and disassembled and stored on the PTM Equipment Cart
Thanks to LEPAT, I passed the PARE!
I attended 2 practice sessions with LEPAT. After the first practice test, I realized I had some work to do. I left that session with encouragement and suggestions as to how to improve my fitness and strength. I am a very active and fit individual, but with Jeremy's advice I managed to push my fitness to the next level. Between my first session with LEPAT and my official PARE testing, I managed to shave off 52 seconds from my time!
LEPAT gives you the opportunity to identify your weaknesses and receive the guidance required to pass your fitness test. I highly recommend it.
Thanks Jeremy!
~ Monica (June 2009)