Chain Link Fence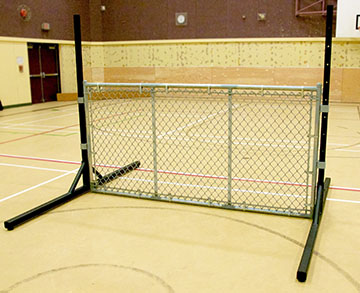 The Chain Link Fence attaches to our Height-Adjustable Vault Rail. It is made from heavy guage chain link and has 2 verticle support posts to help prevent the fecnce from deforming. The top rail is clean (without the protruding chain link pieces of a "normal" fence) to prevent injury in testing environments.
The fence comes standard at 4' high by 8' wide. It is height-adjustable up to 6' with the standard Height Adjustable Vault Rail.
Can be easily assembled and disassembled and stored on the PTM Equipment Cart
"I took the POPAT two weeks ago and passed @ 3:54 mins. Not bad for 38 years old I thought !
Thank you for all your help, it was invaluable."
Tim H. (Oct. 2015)