Equipment Cart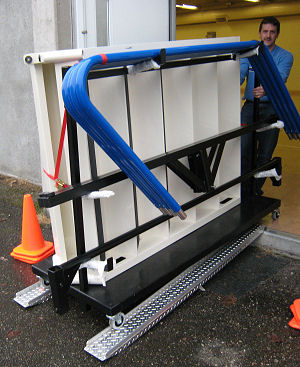 Designed to store and transport PTM products.
Uniquely designed and engineered to carry all (except the Physical Control Simulator) the equipment used within the Law Enforcement Officers PAT) and other ancillary equipment (cones, mats, etc.).
The design of the equipment cart will allow the equipment to be stored and moved efficiently to and from testing locations.
Fits through most standard doorways (e.g. 32" X 76").
"As a correctional officer transferring to another department I could not have passed my physical without LEPAT. You were beyond helpful, and the feedback I received was invaluable. LEPAT is an extremely professional, and well run program. I will be recommending LEPAT to any of my friends moving on into a law enforcement capacity without question. Thank you again for everything you do, you TRULY gave me the edge I needed to move forward in the application process."
Sheldon H. (Feb. 2016)