Equipment Cart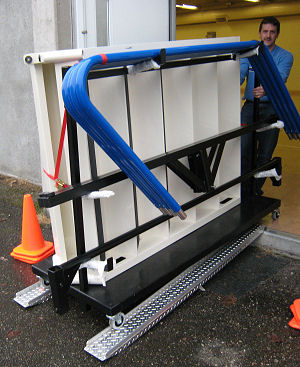 Designed to store and transport PTM products.
Uniquely designed and engineered to carry all (except the Physical Control Simulator) the equipment used within the Law Enforcement Officers PAT) and other ancillary equipment (cones, mats, etc.).
The design of the equipment cart will allow the equipment to be stored and moved efficiently to and from testing locations.
Fits through most standard doorways (e.g. 32" X 76").
I just wanted to say THANK YOU to you for all of your help Without your help during the practice and even after, I know I would not have passed the POPAT. I really appreciate what you have done for me and cannot begin to express my gratitude to you.
~ Sarb S. (Jan. 2009)