The Physical Control Simulator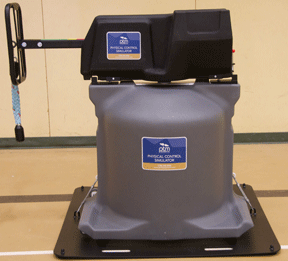 Our unique, patented Physical Control Simulator (formerly called the Power Training Machine, and sometimes referred to as the pull-push apparatus) was designed by exercise physiologists to accurately represent the basic gross muscular functions of the dynamic pulling and pushing forces experienced by law enforcement officers during physical-control situations. The PCS was born out of the research and development of Bona Fide Occupational Requirement Physical Ability Standards in Canada and the United States. That research, by way of thorough job-task-analyses, identified the need for LEO's to be able to physically resolve critical events during the arrest and control of suspects and/or prisoners.
The PCS measures a person's ability to pull and push predetermined force (weight) as they move dynamically through 180° rotational arcs. The amount of force is adjustable based on the amount of weight added to the machine. Research for the protocols of the various standardized tests determined what that force should be, based on the average abilities of inmates/prisoners.* *
PTM Equipment is the sole source for the purchase of the Physical Control Simulator and other standardized Physical Abilities Testing components designed by PTM for use within standardized law enforcement testing protocols (E.g. Including: POPAT, COPAT, SOPAT, PARE (RCMP), PREP (Ontario), JST (NYPD), ORPAT (Oregon), ARPAT (Arkansas) and many others.
The PCS must be purchased with either the Portable Base Plate or Wall Mount to secure the machine for use.
** (Research completed by Douglas W. Farenholtz, MSc. and Dr. E.C. Rhodes included the measurement of prisoners' abilities to apply and control resistive forces through the use of the first designs of the Physical Control Simulator. Adult male, adult female, and youth male prisoners/inmates were studied).
Thanks to LEPAT, I passed the PARE!
I attended 2 practice sessions with LEPAT. After the first practice test, I realized I had some work to do. I left that session with encouragement and suggestions as to how to improve my fitness and strength. I am a very active and fit individual, but with Jeremy's advice I managed to push my fitness to the next level. Between my first session with LEPAT and my official PARE testing, I managed to shave off 52 seconds from my time!
LEPAT gives you the opportunity to identify your weaknesses and receive the guidance required to pass your fitness test. I highly recommend it.
Thanks Jeremy!
~ Monica (June 2009)