Chain Link Fence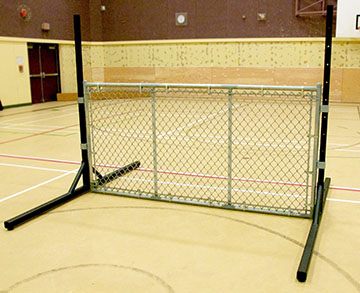 The Chain Link Fence attaches to our Height-Adjustable Vault Rail. It is made from heavy guage chain link and has 2 verticle support posts to help prevent the fecnce from deforming. The top rail is clean (without the protruding chain link pieces of a "normal" fence) to prevent injury in testing environments.
The fence comes standard at 4' high by 8' wide. It is height-adjustable up to 6' with the standard Height Adjustable Vault Rail.
Can be easily assembled and disassembled and stored on the PTM Equipment Cart
"As a correctional officer transferring to another department I could not have passed my physical without LEPAT. You were beyond helpful, and the feedback I received was invaluable. LEPAT is an extremely professional, and well run program. I will be recommending LEPAT to any of my friends moving on into a law enforcement capacity without question. Thank you again for everything you do, you TRULY gave me the edge I needed to move forward in the application process."
Sheldon H. (Feb. 2016)