Wall Panels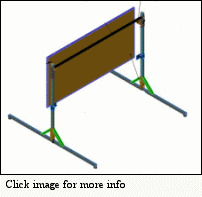 Wall Panels attach to Height Adjustable Vault Rail or can be sold as a complete system.
Used in the BFOR Law Enforcement Officers' Physical Abilities Tests, these walls are height-ajustable from 4' high to 6' high, or can made for custom height requirements if needed.
Panels available in 4 foot or 8 foot widths (or can be custom made to fit your wall width requirements).
Can be easily assembled and disassembled and stored on the PTM Equipment Cart.
Easily adjusted to be used for various height levels of testing and training programs.
Thanks for all of the tips regarding PARE testing - it was really appreciated.
~ Marie P. (April 2011)