Wall Panels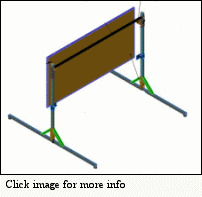 Wall Panels attach to Height Adjustable Vault Rail or can be sold as a complete system.
Used in the BFOR Law Enforcement Officers' Physical Abilities Tests, these walls are height-ajustable from 4' high to 6' high, or can made for custom height requirements if needed.
Panels available in 4 foot or 8 foot widths (or can be custom made to fit your wall width requirements).
Can be easily assembled and disassembled and stored on the PTM Equipment Cart.
Easily adjusted to be used for various height levels of testing and training programs.
"When I first heard about LEPAT and their practice testing, I didn't think I really needed it. Why? Because I am young and in great shape. I am a US Marine veteran and former cop from the US. I figured I would be able to pass any physical test they threw at me.
I was wrong. The truth is this...
If I had not gone to LEPAT, I would have failed the POPAT. I took the class twice, and was able to shave 25 seconds off my time. The practice not only allowed me to pass the POPAT, but have one of the better times that day. I am competing for only a few available police constable positions -- and LEPAT gave me the edge I needed".
~ J. Cain